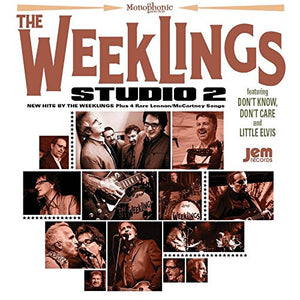 JEM Recordings
The Weeklings - Studio 2 (LP, Album, Mono) (Very Good (VG))
Regular price
$11.00
$0.00
Unit price
per
Media Condition:  Very Good (VG)
Sleeve Condition: Very Good Plus (VG+)
Country:    US  
Released:  2016
Genre:       Pop
Style:         
Comments:
All records are visually graded. For pictures, let us know. Record has multiple surface scratches, and a small acid mark through the last quarter of track one, side one which is unlikely to have an effect on playback. Sleeve appears to be overall in great shape, on the verge of NM.
 
Notes:
A1. Morning, Noon & Night
A2. Little Elvis
A3. Don't Know, Don't Care
A4. Love Can
A5. You're The One
A6. Next Big Thing
B1. Stop Your Running Around
B2. Melody
B3. You Must Write Everyday
B4. Because I Know You love Me So
B5. Some Days
B6. Love Of The Loved

Barcode and Other Identifiers:
Barcode 020286222972

JH100
Data provided by Discogs
---