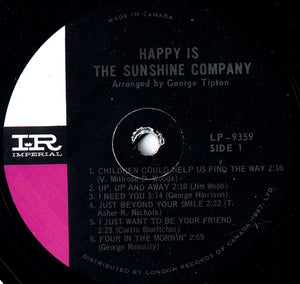 Imperial
The Sunshine Company - Happy Is (LP, Album, Mono) (Good Plus (G+))
Regular price
$6.00
$0.00
Unit price
per
Media Condition:  Good Plus (G+)
Sleeve Condition: Very Good (VG)
Country:    Canada  
Released:  
Genre:       Rock, Pop, Folk World & Country
Style:         Soft Rock, Folk Rock, Psychedelic Rock
Comments:
All records are visually graded. For pictures, let us know. Record has a great deal of surface scratches, hairline scratches, scuffs. Sleeve has seamwear, worn edges, creases, hole punch in the bottom, left corner, fading, ringwear.
 
Notes:
A1. Children Could Help Us Find The Way 2:16
A2. Up, Up And Away 2:10
A3. I Need You 3:14
A4. Just Beyond Your Smile 2:22
A5. I Just Want To Be Your Friend 2:23
A6. Four In The Mornin' 2:59
B1. Warm In My Heart 2:42
B2. A Year Of Jaine Time 2:35
B3. Rain 2:40
B4. Love Is A Happy Thing 2:45
B5. Back On The Street 2:28
B6. Happy 1:56

Barcode and Other Identifiers:
Distributed By London Records Of Canada (1967) Ltd.

JH100
Data provided by Discogs
---