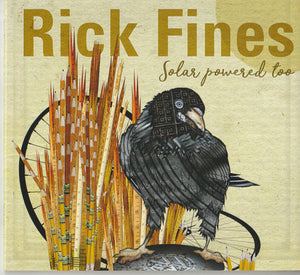 Not On Label (Rick Fines Self-released)
Rick Fines - Solar Powered Two (CD) (Mint (M))
Regular price
$4.00
$0.00
Unit price
per
Media Condition:  Mint (M)
Sleeve Condition: Mint (M)
Country:    Canada  
Released:  2020
Genre:       Blues, Folk World & Country
Style:         
Comments:
All media is visually graded. For pictures, let us know. Factory sealed, presumably mint.
 
Notes:
Nominated for a Juno Award
With; Alec Fraser, Gary Craig, Jimmy Bowskill, Roly Platt, Rob Phillips,
Melissa Payne, Suzie Vinnick
Tracks 1,3,4,6,8,10 recorded at Rick's cabin in the North Kawartha woods
Tracks 2,5,7,9 recorded at the E Room Toronto
Track 12 recorded at Liquid Toronto.

1. Below The Surface 4:09
2. Live Forever 3:55
3. Worry Be The Death Of Me 3:51
4. Laundry On The Line 2:59
5. That's What Makes You Strong 3:37
6. Fundamental Nature 3:10
7. You Only Want Me When You Need Me 3:33
8. Dark Days 4:21
9. Yellow Moon, Indigo Sky 2:50
10. One Lone Loon 3:04
11. Never Let Go 3:35
12. Scared To Dance 2:47

Barcode and Other Identifiers:
Barcode 6 76868 22528 4

Data provided by Discogs
---