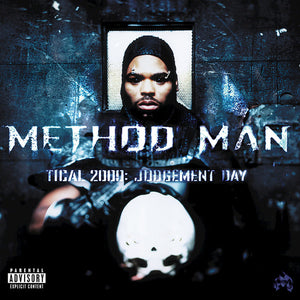 Def Jam Recordings
Method Man - Tical 2000: Judgement Day (CD, Album) (Very Good Plus (VG+))
Regular price
$4.00
$0.00
Unit price
per
Media Condition:  Very Good Plus (VG+)
Sleeve Condition: Very Good (VG)
Country:    USA & Canada  
Released:  1998
Genre:       Hip Hop
Style:         
Comments:
All media is visually graded. For pictures, let us know.
 
Notes:
All retail copies of "Tical 2000" features an uncredited remix of "Party Crasher" mixed by The RZA. The original True Master beat can be found on the T2 Instrumentals LP.

Tracks 1-14 are listed under the heading "1999".
Tracks 15-28 are listed under the heading "2000".

1. Judgement Day (Intro)
2. Perfect World
3. Cradle Rock
4. Dangerous Grounds
5. Sweet Love (Skit)
6. Sweet Love
7. Shaolin What (Skit)
8. Torture
9. Where's Method Man? (Skit)
10. Suspect Chin Music
11. Retro Godfather
12. Dooney Boy
13. Spazzola
14. Check Writer (Skit)
15. You Play Too Much
16. Party Crasher
17. Grid Iron Rap
18. Step By Step
19. Play IV Keeps
20. Donald Trump (Skit)
21. Snuffed Out
22. Elements
23. Killin' Fields
24. Big Dogs
25. Break Ups 2 Make Ups
26. Message From Penny (Skit)
27. Judgement Day
28. C.E.O. Outro

Barcode and Other Identifiers:
Data provided by Discogs
---