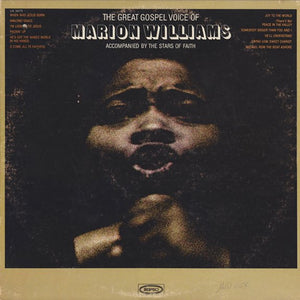 Epic
Marion Williams Accompanied By The Stars Of Faith - The Great Gospel Voice Of Marion Williams (LP, Album) (Very Good (VG))
Regular price
$7.00
$0.00
Unit price
per
Media Condition:  Very Good (VG)
Sleeve Condition: Good Plus (G+)
Country:    US  
Released:  1965
Genre:       Funk / Soul
Style:         Gospel
Comments:
All records are visually graded. For pictures, let us know. More visible surface scratch through track three, side one, which doesn't have much effect on playback. great deal of seamwear, worn edges, dents, hole punch in top, left corner, pricing sticker in top, right, fading, ringwear.
 
Notes:
Tracks A1 to A3, A5 to B1, B5 to B6 are public domain.
Tracks A4 and B2 published by Hill & Range Songs, Inc. (BMI).
Track B3 published by Bulls Eye Music, Inc. (ASCAP).
Track B4 published by Savoy Music Co. (BMI).
A1. When Was Jesus Born 1:51
A2. Amazing Grace 3:56
A3. I'm Looking To Jesus 3:16
A4. Packin' Up 2:53
A5. He's Got The Whole World In His Hands 2:22
A6. O Come, All Ye Faithful 2:27
B1. Joy To The World 1:40
B2. (There'll Be) Peace In The Valley 3:17
B3. Somebody Bigger Than You And I 4:15
B4. He'll Understand 3:52
B5. Swing Low, Sweet Chariot 4:13
B6. Michael Row The Boat Ashore 2:13

Barcode and Other Identifiers:
Published By Public Domain
Published By Hill & Range Songs, Inc.
Published By Bulls-Eye Music, Inc.
Published By Savoy Music Co.

Data provided by Discogs
---