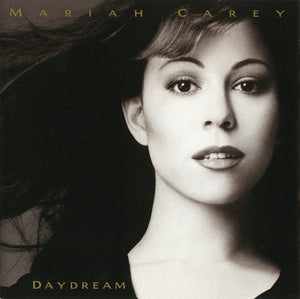 Columbia
Mariah Carey - Daydream (CD, Album, Club) (Near Mint (NM or M-))
Regular price
$4.00
$0.00
Unit price
per
Media Condition:  Near Mint (NM or M-)
Sleeve Condition: Good Plus (G+)
Country:    Canada  
Released:  1995
Genre:       Hip Hop, Pop
Style:         RnB/Swing, Ballad
Comments:
All CDs are visually graded. If you would like to see pictures of the actual CD, please let us know. The CD appears to be in unplayed condition. The front and back covering contains a great deal of scuffs and scratches with no visible cracking and the inner label appears to be in great condition overall.
 
Notes:
This is the Canadian Columbia House version of "Daydream".
1. Fantasy 4:04
2. Underneath The Stars 3:33
3. One Sweet Day 4:42
4. Open Arms 3:30
5. Always Be My Baby 4:20
6. I Am Free 3:09
7. When I Saw You 4:24
8. Long Ago 4:33
9. Melt Away 3:42
10. Forever 4:00
11. Daydream Interlude (Fantasy Sweet Dub Mix) 3:04
12. Looking In 3:35

Barcode and Other Identifiers:
Barcode 074646670026

Distributed By Columbia House
Phonographic Copyright (p) Sony Music Entertainment Inc.
Copyright (c) Sony Music Entertainment Inc.

Data provided by Discogs
---