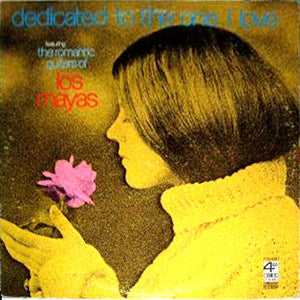 4 Corners Of The World
Los Mayas - Dedicated To The One I Love (LP) (Very Good (VG))
Regular price
$9.00
$0.00
Unit price
per
Media Condition:  Very Good (VG)
Sleeve Condition: Very Good (VG)
Country:    US  
Released:  
Genre:       Folk World & Country
Style:         
Comments:
All records are visually graded. For pictures, let us know. Record has several surface scratches and some visible scuffs. Sleeve has seamwear, slightly worn edges, ringwear and a hole punch in the bottom, left corner.
 
Notes:
1A. Stranger In Paradise 3:15
2A. Scarborough Fair/Canticle 2:40
3A. Tears For Love 2:20
4A. La Noche Triste "Based On The Theme From The Last Rose Of Summer" 2:45
5A. Erotiko 2:18
6A. Dedicated To The One I Love 3:12
1B. Maria 3:50
2B. Rosa Linda 2:42
3B. Whe The World Was Mine (Quando Tu Reviendras) 2:20
4B. Pavane For The One I Loved 3:03
5B. Plaisir D'Amour 3:10

Barcode and Other Identifiers:
Data provided by Discogs
---