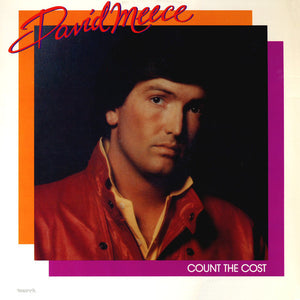 Myrrh
David Meece - Count The Cost (LP, Album) (Very Good Plus (VG+))
Regular price
$8.00
$0.00
Unit price
per
Media Condition:  Very Good Plus (VG+)
Sleeve Condition: Very Good Plus (VG+)
Country:    USA & Canada  
Released:  1983
Genre:       Pop
Style:         
Comments:
All records is visually graded. For pictures, let us know. Record is overall in great shape other then a few minor, light scratches. Sleeve appears to be in perfect condition.
 
Notes:
David's 6th album.
A1. Gloria 3:59
A2. Making My Life Brand New 4:19
A3. Falling Down 3:04
A4. Pressing On 3:46
A5. Some People They Never Believe 3:22
B1. Count The Cost 2:51
B2. I Don't Know What I'd Do Without You 5:10
B3. Today Is The Day 2:29
B4. And You Know It's Right 4:25
B5. Replace It With Your Love 4:00

Barcode and Other Identifiers:
Other WR-8120
Barcode 7502-18120-1
Matrix / Runout MSB-6744-A
Matrix / Runout MSB-6744-A

Recorded At Caribou Ranch
Recorded At Bullet Recording
Recorded At Sound Stage Studios

CH5
Data provided by Discogs
---