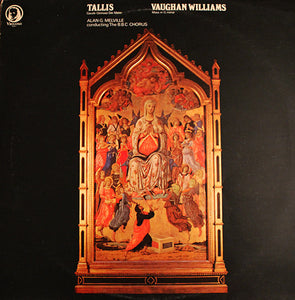 Virtuoso Series
BBC Symphony Chorus, Alan G. Melville - Tallis/ Vaughan Williams (LP) (Very Good (VG))
Regular price
$5.00
$0.00
Unit price
per
Media Condition:  Very Good (VG)
Sleeve Condition: Good Plus (G+)
Country:    UK  
Released:  
Genre:       Classical
Style:         
Comments:
All records are visually graded. If you would like to see pictures of the actual album, please let us know. Side one is overall in great shape. Side two contains several surface scratches, a few of which are visibly longer. Sleeve has seamwear, worn edges, splitting along bottom seam, creases, ringwear.
 
Notes:
A. Tallis: Gaude Gloriosa Dei Mater
. Vaughan Williams: Mass In G Minor

Barcode and Other Identifiers:
Printed By Garrod & Lofthouse Ltd.
Copyright (c) Pye Records Ltd.
Distributed By Pye Records (Sales) Ltd.

Data provided by Discogs
---