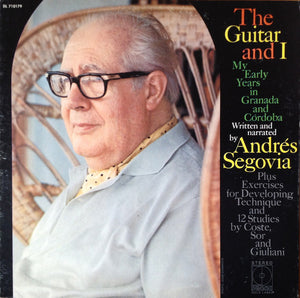 Decca,Decca
Andrés Segovia - The Guitar And I (LP, Album, Gat) (Very Good Plus (VG+))
Regular price
$16.00
$0.00
Unit price
per
Media Condition:  Very Good Plus (VG+)
Sleeve Condition: Very Good (VG)
Country:    Canada  
Released:  1970
Genre:       Non-Music, Classical
Style:         Spoken Word, Classical
Comments:
All records are visually graded. For pictures, let us know. Record appears to be overall in great shape. Sleeve seamwear, slightly worn edges, creases, light fading, ringwear.
 
Notes:
Gatefold. Gold Label Series. Stereo.
Gold label. Not deep groove.

1st side features Segovia talking about his life and Exercises. Second side is him playing.
Recorded in Spain.

(P) 1970
© The Compo Co.
. Side 1: The Guitar And I (My Early Years In Granada And Cordoba)
A1. Linares (Birthplace)
A2. Granada
A3. Cordoba
A4. Exercises For Developing Technique
B1. Three Studies
B2. Six Studies
B3. Three Studies
B4. G Major, Op. 111, No. 3
B5. A Major, Op. 1a, No. 11 / A Minor, Op. 1a, No. 3

Barcode and Other Identifiers:
Copyright (c) The Compo Company Ltd.
Manufactured By MCA Records Canada
Distributed By MCA Records Canada

JH100
Data provided by Discogs
---