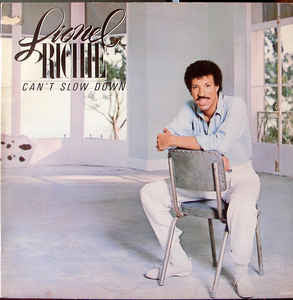 Motown
Lionel Richie - Can't Slow Down (LP, Album, Gat) (Very Good (VG))
Regular price
$7.00
$0.00
Unit price
per
Media Condition:  Very Good (VG)
Sleeve Condition: Very Good Plus (VG+)
Country:    Canada  
Released:  1983
Genre:       Rock, Funk / Soul
Style:         Pop Rock, Downtempo
Comments:
All records are visually graded. For pictures, let us know. Record has multiple surface scratches. Sleeve has minor wear along opening seam, otherwise VGP.
 
Notes:
Variant with Quality logo in rear blurb as opposed to plain-text with 'Q' labels. Variant With Matrix Runout, 2 and QU added. Issued with a printed inner lyrics-sleeve.
A1. Can't Slow Down 4:42
A2. All Night Long (All Night) 6:18
A3. Penny Lover 5:26
A4. Stuck On You 3:06
B1. Love Will Find A Way 6:10
B2. The Only One 4:15
B3. Running With The Night 5:58
B4. Hello 4:07

Barcode and Other Identifiers:
Label Code Side A M-6059 Q
Label Code Side B M-6059 Q
Matrix / Runout Side A M-6059-A2 QU
Matrix / Runout Side B M-6059-B2 QU
Rights Society ASCAP
Rights Society BMI

Manufactured By Quality Records Limited
Copyright (c) Quality Records Limited
Phonographic Copyright (p) Motown Record Corporation
Recorded At Ocean Way Recording
Recorded At Sunset Sound
Mixed At Hitsville USA Studios, Detroit
Mastered At Bernie Grundman Mastering
Published By Brockman Music
Published By Shankman DeBlasio, Inc.
Published By Dyad Music Ltd.
Published By Wb Music Corp.

Data provided by Discogs
---