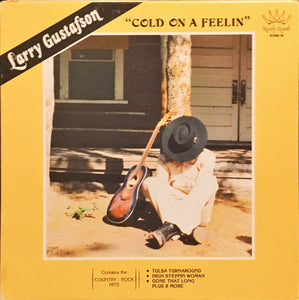 Royalty Records (8)
Larry Gustafson - Cold On A Feelin (LP, Album) (Very Good (VG))
Regular price
$12.00
$0.00
Unit price
per
Media Condition:  Very Good (VG)
Sleeve Condition: Very Good (VG)
Country:    Canada  
Released:  1978
Genre:       Rock, Folk World & Country
Style:         
Comments:
All records are visually graded. For pictures, let us know. Record has several surface scratches, a few longer scuffs. Sleeve has a heightened level of seamwear, worn edges, creases, some fading, ringwear evidence of a pricing sticker having been removed in the top, right corner.
 
Notes:
A1. Cold On A Feelin
A2. The Mornin After (The Night Before)
A3. Long Time Layin Down
A4. Sweet Alberta Woman
A5. High Steppin Woman
A6. After The Fire Goes Out
B1. Tulsa Turnaround
B2. Toss Of The Coin
B3. I'll Be There
B4. Gone That Long
B5. Who Picks A Hit Song

Barcode and Other Identifiers:
JH100
Data provided by Discogs
---