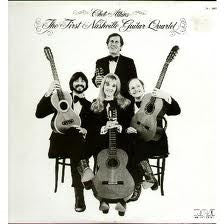 RCA Victor
Chet Atkins - The First Nashville Guitar Quartet (LP, Album) (Very Good (VG))
Regular price
$4.00
$0.00
Unit price
per
Media Condition:  Very Good (VG)
Sleeve Condition: Very Good (VG)
Country:    Canada  
Released:  1979
Genre:       Classical, Folk World & Country
Style:         
Comments:
All records are visually graded. For pictures, let us know. Multiple surface scratches, some fading to vinyl. Pricing sticker in top, right corner of sleeve.
 
Notes:
Liner notes: Chet Atkins thanks Shel Silverstein for suggesting the project which led to the production of the album.
A!. Carolina Shout 2:37
A2. Londonderry Air 3:00
A3. Love Song Of Pepe Sanchez 2:16
A4. Skirts Of Mexico 3:00
A5. You Needed Me 2:59
A6. Bound For Boston 3:40
B1. Washington Post March 2:18
B2. Someday My Prince Will Come 2:55
B3. Rings Of Grass 3:17
B4. Rodrigo Concerto 3:34
B5. Brandenburg 2:59

Barcode and Other Identifiers:
Matrix / Runout AHL1-3302-A
Matrix / Runout AHL1-3302-B
Matrix / Runout AHL1-3302-A TG
Matrix / Runout AHL1-3302-B TG

Manufactured By RCA Limited
Distributed By RCA Limited

Data provided by Discogs
---